News
Lois Morris / In The News

By Rose Kandy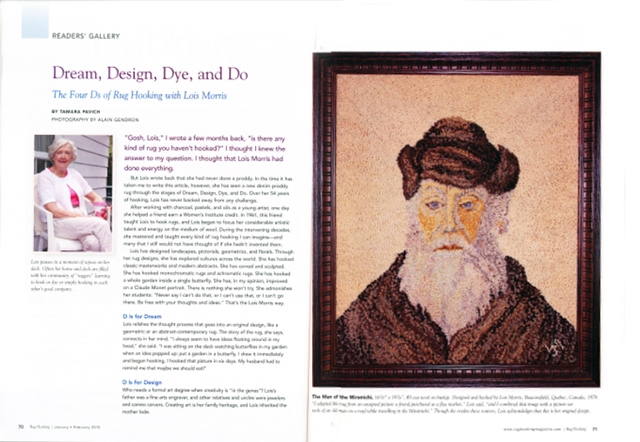 Congratulations to Lois Morris, founder of the Guild, whose work appears in two articles in the January-February 2015 edition of Rug Hooking Magazine. In the article entitled From Doodle to Adaptation by Tamara Pavich, under Repeating Patterns, page 62, you will find "Celestial Spirits". Then in Readers' Gallery beginning page 70 in the same magazine, you will find nine pages devoted to the artistry and teachings of Lois Morris, entitled Dream, Design, Dye, and Do, also written by Mrs. Pavich. Follow the link to read an abstract.

We would invite all members to read these articles, as well as the previous ones published in the September-October and the November-December 2014 edition of Rug Hooking Magazine.
We would like to remind our members that our other teacher, Judith Dallegret was featured in the March/April/May 2012 edition of Rug Hooking Magazine in an article written by Anne-Marie Littenberg.
We are very proud of your accomplishments and we know we are very privileged to have you among us.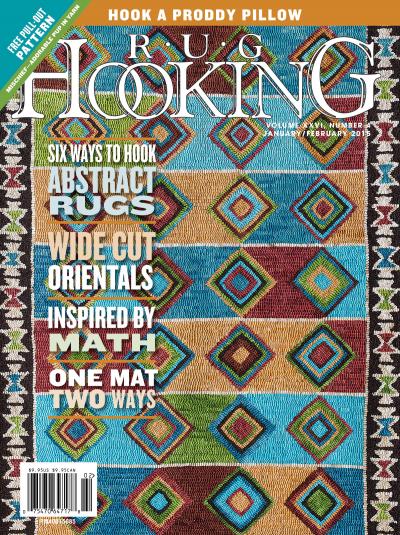 Dream Design, Dye and Do.
The Four Ds of Rug Hooking with Lois Morris
By Tamara Pavich / Photography by Alain Gendron
published in Rug Hooking Magazine - January-February 2015. Images published here with permission from the editor, Debra Smith.