Featured Rugs Gallery

On this Gallery, you can tour a selection of rugs from our last Exhibition, held on September 2017 at Centennial Hall. Visit the Blog "News & Blog" to see the rugs showcased in the past.
Next Update: July 2018

Canadian Cultural Heritage
The year 2017 was Canada's 150th anniversary. To extend and commemorate Canada's Culture and Heritage, this year our Website's "Show & Tell" section will be dedicated to heritage buildings and historical sites. In the coming months, two of these structures, lighthouses and covered bridges, will be shown as seen by our rug hookers. Starting in January, Lighthouses will be highlighted in Show & Tell, to be followed by Covered bridges a few months later.
Show & Tell : Covered Bridges!
From the middle 1800's to the middle 2000's over 1000 to 1200 covered bridges were built in Quebec alone, and, of these, 82 were still in existence in 2012. (Certain sources claim 100). These structures were erected to facilitate the transport of timber across watercourses, replacing the early primitive bridges made out of exposed wooden boards, which, unprotected from the elements, were rotting quickly and were hazardous for the users. Covering the bridge with a roof meant a longer lifespan for the bridge and protection for the horses and pedestrians. Over the years, many of these bridges were restored and are still in use today for pedestrians and cyclists. The longest covered bridge in the world is in Hartland, New Brunswick. It is the subject of Claire Fradette's rug, seen here. To learn more about covered bridges, please visit:
Encyclopedia of French Cultural Heritage in North America

Blogue sur les ponts couverts (In French only)
The Canadian Encyclopedia - Bridges
Covered Bridges Map (Interactive Map)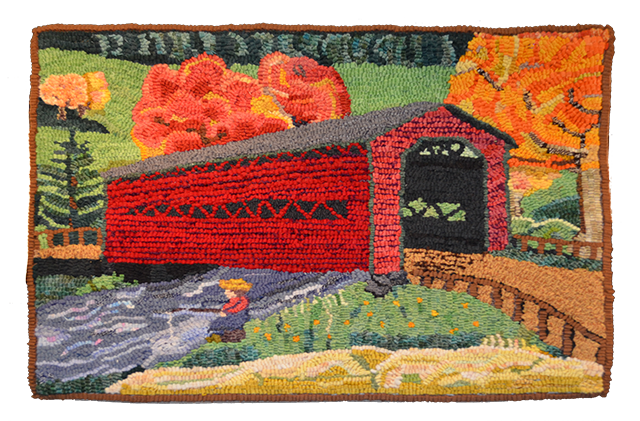 St André Covered bridge
Hooked by Denise Morissette


My inspiration for the covered bridge was found on the internet from a photo taken by Pierre L'Homme on November 10, 2006 of St. André bridge, west of St. Sylvestre, in Quebec.
I used recycled wool, hooked it in cuts no. 6, 5 and 3. It measures 20 X 17 inches.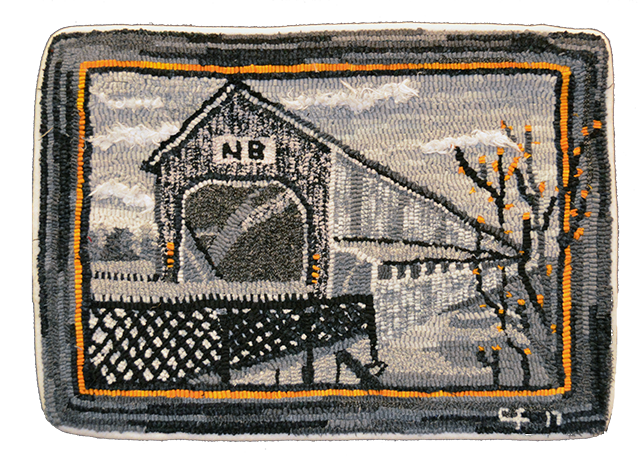 The Hartland Covered Bridge

Hooked By Claire Fradette

I hooked this rug in a # 4 cut. It is 20"x 14" and is adapted from a photo.

Built in 1898, and with its 1,282 feet long, the Hartland covered bridge is the world's longest. It crosses the Saint John River from Hartland to Somerville, New Brunswick. I remember going through it as a young child, New Brunswick being my native province.
In 1987, the Olympic Torch for the 1988 Winter Olympics crossed the bridge and a 1995 Canadian postage stamp honours it.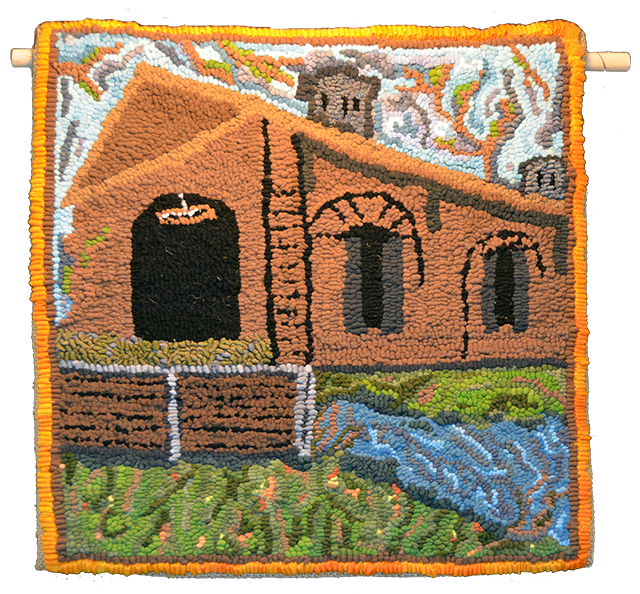 Covered Bridge
Hooked By Candace Fradette

A small covered bridge on County Road 19 in Williamstown, Ontario. The South Branch of the Raison River runs through it. Presently on private property.