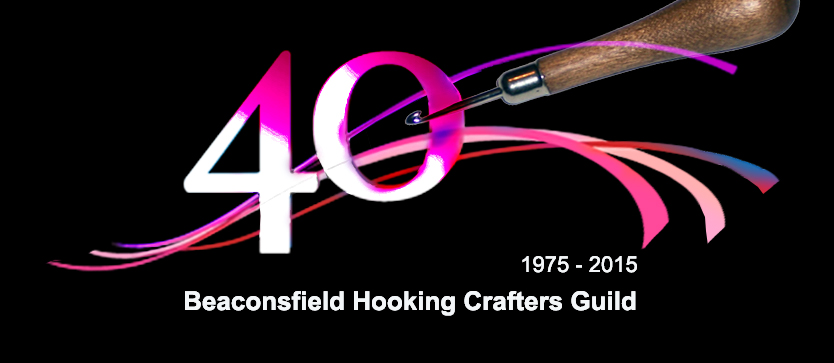 Page Content:


Executive Committee Message


Founder's Message

40th Anniversary Logo

Photo Album


Guestbook



The Beaconsfield Hooking Crafters Guild celebrates its 40th Anniversary
In 1975 Lois Morris founded the "Lakeshore Woolgatherers Hooking Craft Guild", subsequently renamed "Beaconsfield Hooking Crafters Guild" and thus began 40 years of rug hooking adventures that continue today. Founding and early members, under Lois' expert guidance, learned to hook and to this day, strive to not only expand their own creative talents but to share their experience with new members as well. From McGown and Moshimer inspirations, to crewel and sculpted pieces, to designing original artwork, to proddy and scrappy and 3 dimensional, from #2 cut to #10, BHCG members are ever evolving and attempting new skills.
The guild has met throughout its existence at Centennial Hall on the lovely shores of Lac-St.-Louis with the generous support of the City of Beaconsfield and its helpful staff.
The current executive is made up of relative newcomers who appreciate the opportunity to serve in a long line of past executives who have helped to steer the guild, establishing BHCG as a long-respected organization dedicated to the craft of rug hooking.
Plans for the 40th anniversary year include continued efforts to offer both beginners and more accomplished hooking crafters the opportunities to hone their skills, to support the City of Beaconsfield in its activities, and as a final flourish in September, to exhibit 40 years of our work and guild history.
Our 40th Anniversary Exhibit will take place at Centennial Hall, September 25, 26 and 27, 2015. Our celebrations begin with a Vernissage by invitation on the 25th, followed by two days of exhibit and rug hooking related activities. We look forward to welcoming visiting rug hookers and the general public. Visitors can expect to see some extraordinary works of art.
The executive is honoured to be part of this proud legacy. We owe the success of the guild to those still treasured founding members from forty years ago, to their dedication and ingenuity and of the members who followed. We raise our hooks to salute you and the next forty years!
Best wishes from the Executive:
Ti Seymour - President
Linda Henderson - Vice President
Dawna Matthew - Secretary
Jacqueline Bouchard - Treasurer
Founder's Message
by Lois J. Morris
I have drawn and painted for as long as I can remember. In Toronto, I took adult education courses in Traditional Rug Hooking and became hooked." By the late sixties I was teaching in my house. We were transferred to Montreal in 1973, my neighbor was interested in what I was doing. She gathered a few friends together, I taught them and then approached Beaconsfield City to see if they might offer a beginners course in Rug Hooking. They were willing to try one and before long I was teaching five classes a week.
The need to get together, and share and inspire one another was evident, but we were too many to meet in any one house. In 1975 the City graciously offered us Centennial hall, and the Guild was born. Now, 40 years later, The Beaconsfield Rug Hooking Crafters Guild of more than 40 members still meets at Centennial Hall to continue their work, which now extends to the Fiber Arts. These members Design, Draw, Dye and Hook their dreams as beautiful creations, beyond the Original Tradition Primitive works of their ancestors.
When we began I never expected to see this group still in existence "40" years later. I salute the current membership, and the executive, for the efforts they make and for the hidden talent of the group that manifests itself at their displays and regional exhibitions from time to time. I am proud of you all. Let us continue to have fun. Thank you for the opportunity to teach and work with you.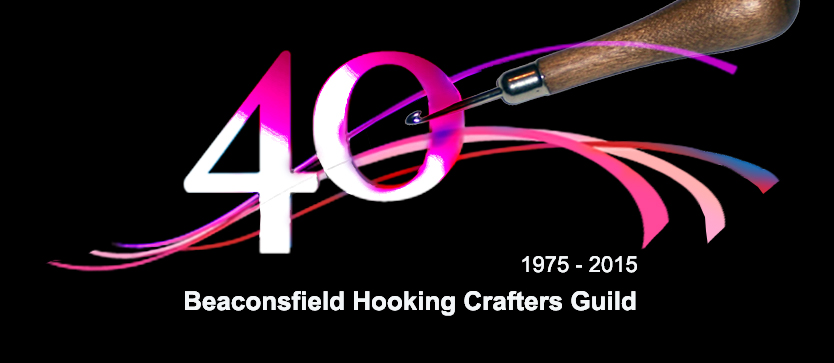 40th Anniversary Logo
This logo was created by our Webmaster Maria Romero to mark the 40th anniversary of the Beaconsfield Hooking Crafters Guild. The hook featured in the logo is taken from our website banner. The curved lines represent both the passage of time as well as the strips of textiles used in rug hooking. A palette of warm colours was chosen to express the dynamic aspect of the Guild and the passion of its members towards rug hooking.
Click on a thumbnail to activate the slideshow. Then click the middle left or middle right of the image to move forward or backward.